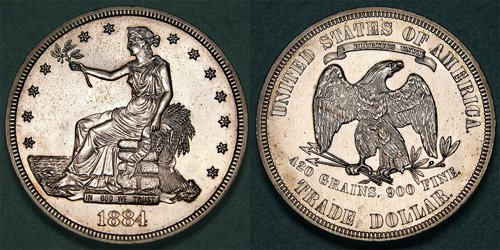 The 1884 Trade Dollar represents one of the two extreme rarities of the series. Struck in proof format, the issue was not known to the numismatic community until the early 20th century. Only ten examples are known to exist, which is also the mintage figure indicated per all the major publications.
Following the passage of the Sherman Silver Act in February 1878, demand for the Trade Dollar fell and production for circulation stopped. However, the Philadelphia Mint continued to fulfill orders from collectors for proofs during the next five years. The 1879-1883 Proof Trade Dollars were struck with mintages ranging from a low of 960 to a high of 1,987, making these issues more or less available. In 1884, production of proofs for the public ceased, although Mint records support the fact that ten coins were minted.
All ten examples of the 1884 Trade Dollar believed to have been struck are accounted for today. All grade Proof-60 or higher, indicating that they were carefully preserved after striking. An example graded PCGS PR65 sold at auction in November 2005 for $603,750.