With only five known examples, the 1885 Trade Dollar (Buy on eBay) represents a valuable and enigmatic rarity within American numismatics.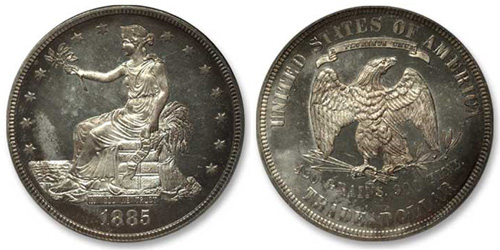 Although the production of the series for circulation stopped in 1878, the Philadelphia Mint continued to strike Proof Trade Dollars for numismatic purposes for the next several years. Initially, it was believed that the last year of the Trade Dollar was 1883. However, more than two decades later, 1884 and 1885 Trade Dollars appeared on the market and created a sensation despite their questionable origin.
The 1885 Trade Dollar is believed to have an original mintage of 5 coins, struck clandestinely by mint employees. All five of these coins are currently accounted for, although one example has been harshly cleaned. The finest known specimen graded PR66 sold for nearly $4 million. Three of the other specimens have changed hands for prices ranging from $1 million to $2.1 million.
Coin Specifications
Designer: William Barber
Denomination: $1.00
Composition: 90% silver, 10% copper
Diameter: 38.1 mm
Weight: 27.22 grams
Edge: Reeded