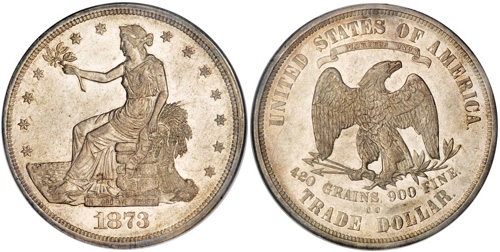 The 1873-CC Trade Dollar had a mintage of 124,500 coins, making it fairly available in lower circulated grades. However, the issue becomes scarce at the AU grade level and rare in mint state. It is estimated that perhaps no more than 50 pieces survive in all uncirculated grades, and only one example has been graded MS65 by the major grading services.
This issue represented the first Trade Dollar from the famous Carson City Mint. Nearly the entire mintage was shipped overseas where the coins were heavily circulated and chop marked. Very few examples managed to survive in unworn condition for future collectors.
At the end of the series, the 1878-CC Trade Dollar had a lower mintage for circulation at 97,000 pieces. In addition to the problems experienced for other issues, the 1878-CC was also melted in quantity, leaving few higher grade surviving examples. It is estimated that 60 to 75 coins exist in mint state grades, with the highest graded MS66.