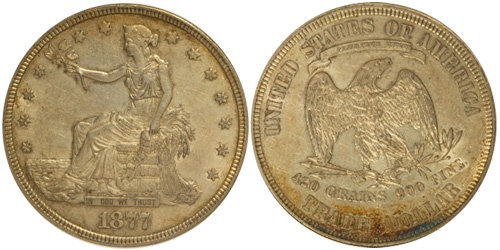 Trade Dollars were struck for circulation for less than five years during the period from July 1873 to April 1878. These coins were minted during the suspension of the standard silver dollar denomination and were intended primarily for export. The mintages ranged from a low of 97,000 to a high of more than 9 million. Across all dates and mint marks, there were nearly 36 million Trade Dollars produced.
The majority of Trade Dollars were exported, in line with the intentions for the coins. Within Asian commerce the coins circulated heavily or were chop marked with Chinese characters, which impacts the quality of surviving examples. Melting would also have an impact on the absolute number of surviving coins. The 1878-CC Trade Dollar, which had the lowest mintage of the series, was melted in quantity further reducing the number of survivors.
The table below presents the mintage figures for circulation strike Trade Dollars. Coins were struck at Philadelphia, San Francisco, and Carson City.
1873-1878 Trade Dollar Mintages
| Issue | Mintage |
| --- | --- |
| 1873 | 396,635 |
| 1873-CC | 124,500 |
| 1873-S | 703,000 |
| 1874 | 987,100 |
| 1874-CC | 1,373,200 |
| 1874-S | 2,549,000 |
| 1875 | 218,200 |
| 1875-CC | 1,573,700 |
| 1875-S | 4,487,000 |
| 1876 | 455,000 |
| 1876-CC | 509,000 |
| 1876-S | 5,227,000 |
| 1877 | 3,039,200 |
| 1877-CC | 534,000 |
| 1877-S | 9,519,000 |
| 1878-CC | 97,000 |
| 1878-S | 4,162,000 |